For those who is just looking to select a concrete5 theme for his/her website, I've prepared another bundle pack. This one is different from the concrete5 themes pack I created before and the installation process should go even faster.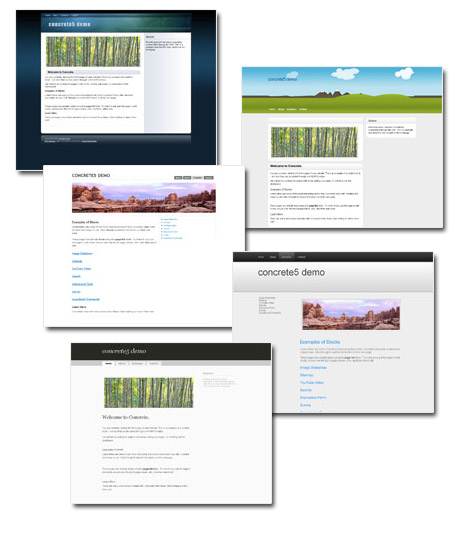 This package includes the following themes (thumbnails displayed from top to bottom):
eos
illustrative
primepress
tranquility
simplex
If you want to download these and other concrete5 templates one by one, you can do it here: http://www.smartwebprojects.net/concrete5-themes/
So, here is what you should do to install these themes on your concrete5 website:
1. Download the concrete5 templates pack here
2. Extract it into 'packages' directory of your concrete5 installation. In other words you should finally have folder as
ROOT/packages/concrete5_templates_pack/
Where ROOT is the root directory of concrete5 cms.
3. Go to admin dashboard and open 'Add functionality' page (find the button in left column)
4. You should be able to see 'concrete5 templates pack' with 'Install' button. Click 'Install'.
5. Now all the themes in concrete5 templates pack will be installed. You can go to 'Pages and Themes' section of the dashboard and activate a theme you're going to try.
Please report any bugs or wishes. Your feedback is much appreciated.